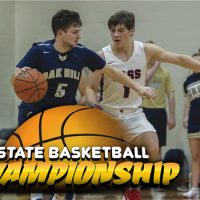 This Saturday we will have full coverage of the Class A and Class 2A state championship basketball games on our sister station, 860 ESPN.
Things get kicked off at 8am Saturday morning with Meet the Eagles
At 9, we will have the year in review with Coach Renbarger.
10am will be pregame for the Class A State Championship featuring the Southwood Knights.
Following the Southwood game we will have the Oak Hill Golden Eagles game from Indianapolis.
Listen on 860am ESPN, or  at 860ESPN.com