The Marion Police Department has arrested 27-year-old Thomas Pace, of Marion, according to Deputy Chief Stephen Dorsey.
Pace is charged with robbery while armed with a deadly weapon, a Level 3 Felony.
According to Dorsey, detectives received a tip that Pace had committed the robbery at Save-On Liquor. Pace was located at a local bar at which time he denied involvement in the robbery.
Detectives then obtained a search warrant and searched Pace's residence. The clothing worn during the robbery was located in his house, Dorsey added.
The armed robbery took place Tuesday night at the Save-On Liquor located on S. Western Avenue.
Store clerk Teresa Picco reported that a Caucasian male entered the store wearing a mask and hood that partly covered his face.
The male refused to remove the mask and displayed a butcher knife, telling her it was a "stick up," according to Dorsey.
Pace's Bond is set at $30,005.00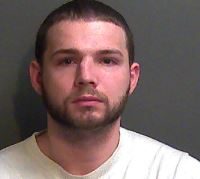 (Pace, Thomas)