An Upland man has been charged following allegations he sexually assaulted a Muncie woman, according to The Star Press.
20-year-old Justin Olen Ray Singer was charged with rape, a Level 3 felony, and strangulation, a Level 6 felony, in Delaware Circuit Court 4 on Tuesday.
The Star Press reports that Singer forced himself on the victim and occasionally brandished a knife.
Singer was booked into the Delaware County jail on Tuesday night, but released soon after on a $25,000 bond.
An initial hearing is set for March 30.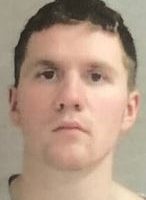 (Photo provided)