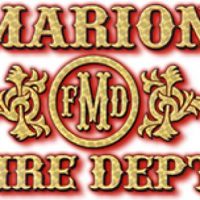 A weekend structure fire resulted in a man being airlifted to Fort Wayne.
According to a press release from the Marion Fire Department (MFD), firefighters were dispatched to the 2700 block of West 17th Street at approximately 9:40 p.m. Saturday for a residential structure fire.
The crew from Engine 2 arrived on the scene and reported heavy smoke coming from the residence.
The press release states that witnesses on the scene reported that they believed occupants were still inside the residence.  The crew from Engine 2 immediately began an interior search of the residence where they located and removed an unresponsive male victim. No other occupants were found in the home.
Upon victim removal, additional personnel from MFD and Marion Police Department began rendering basic life support, according to the press release.
Advanced life support personnel from Marion General Hospital (MGH) arrived on the scene and assumed care for the victim.  The victim was then transported to MGH.  The victim was then transferred from MGH to Lutheran Hospital by helicopter where the victim is in stable but critical condition.
The fire was fully extinguished by 10 p.m. Investigations into the cause of the fire remain ongoing.