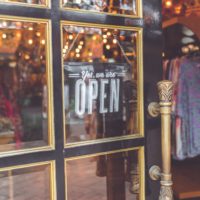 Main Street Marion, Indiana will sponsor and host a weeklong virtual trivia event to promote local businesses for Small Business Saturday. The event is being held in conjunction with the statewide Indiana Main Street Small Business Saturday virtual promotion.
Designed to promote and support the hardworking local businesses in our community, Main Street Marion's Know Your Downtown Trivia event will run on the Main Street Marion, Indiana Facebook page from Monday, November 23 through Saturday, November 28, 2020. Participants will be able to compete virtually for $600 in total gift cards and donated prizes to support the downtown economy. The winners of the contest will be notified by close of business on Monday, November 30, 2020.
The MSM Promotion Committee, consisting of Chair Rachel Creech, Shayona Funches, Peter Troutner, Alexis Wroughton, Torri Williams, Kayla Johnson, and Jaylan Miller, partnered with the City of Marion and over 25 locally owned businesses to develop the trivia questions and social media contest plans. Main Street Marion has sponsored the gift card prize package from donated funds.
Promotion committee chair and local business owner, Rachel Creech said, "we are excited to give our community something fun and interactive to do while getting a chance to win one of four top prizes and learn about downtown businesses." Heidi Peterson, Executive Director of Main Street Marion, added," we all need to support our local businesses now as safely as possible. About $0.67 of every dollar spent at our local businesses stays local and supports our economy and helps our community in significant ways."
To learn more about the event and how you can support local businesses and Main Street Marion, contact Heidi Peterson, Executive Director of Main Street Marion at 765.293.7876 or mainstreetmarion@gmail.com. For additional information about