Help us celebrate 75 amazing years of WBAT! For the next few months, we are going to take a walk down memory lane. Help us celebrate all the amazing broadcasters and guests that sat behind our mics since 1947. We had local and national celebrities help us write our history. We've also had multiple location changes and have rebranded multiple times.
The WBAT family has a lot of special things planned for you. We will be airing back important interviews, bringing back some of the big names, and celebrating all the great things WBAT has done for Grant County. June 7th is our actual birthday and we plan to celebrate in a big way. We are so excited to have you along for the ride as we bring the past back to life.
John F. Kennedy made a visit to Grant County. This picture was taken in 1960 at UAW Halll.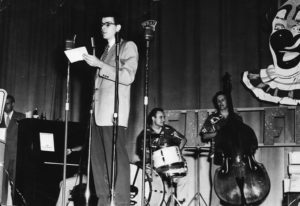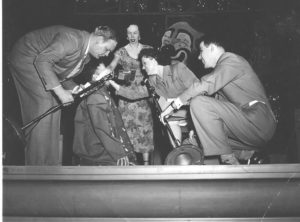 Did you notice Bill Fowler behind the Piano? These pictures were taken in 1949 at a concert. The band that followed Fowler was a country group called Fun Frolics!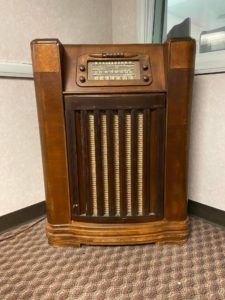 This is a 1947 Philco Model 47-1230. This Radio/Phonograph was owned by Harley 'Bud' Dailey of Fairmount. He received it as a Christmas present in 1947. It was in a prominent place in his home for the rest of his life. The radio dial was always set on 1400. He never missed his noon news or any sporting event being broadcasted. After his death, the radio has been in the possession of his grandson and great-grandson.
"We are pleased to donate the 'Old Philco' to WBAT- Grandpa's  favorite radio station." – Melvin Key and Robert Key