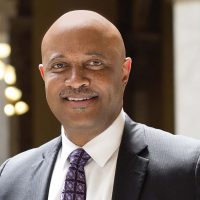 One candidate has stepped out and another has jumped in to the Republicans' contest for attorney general.
Decatur County Prosecutor Nate Harter will challenge incumbent Curtis Hill at the Republican convention. Minutes after Harter announced his candidacy, former state revenue commissioner Adam Krupp announced he's ending his and endorsing Harter. He calls Harter a man of integrity with a history of winning elections.
Harter was part of Hill's transition team four years ago, but says he's concluded in the last couple of months that Hill's conduct leaves him unable to win in November and risks the election of "a liberal Democrat who will be well-positioned to undermine the agenda of our friends in the legislature and in the executive branch." Hill is awaiting a decision from the Indiana Supreme Court on a hearing officer's recommendation that his law license be suspended for two months, over accusations of inappropriately touching four women at a party celebrating the end of the 2018 legislative session.
Harter is serving his second term as a prosecutor and is Decatur County, Republican chairman. He says his existing relationships with party leaders across the state will allow him to ramp up his campaign quickly despite getting a late start.
Krupp says the coronavirus lockdown hamstrung his efforts to reach out to potential delegates. And he says he was taking flak for donating to Barack Obama's first presidential campaign. Krupp says he considered himself apolitical at the time and didn't become a Republican until he was inspired by Governor Mitch Daniels while helping with the state's lawsuit against I-B-M.
Zionsville attorney John Westercamp is also challenging Hill. Candidates have until May 21 to file. Republicans will choose their nominee at their state convention June 20 — or, if the pandemic forces the event to be canceled, by mail, with ballots to be counted July 10. Ogden Dunes Senator Karen Tallian and former Evansville Mayor Jonathan Weinzapfel are seeking the Democratic nomination.