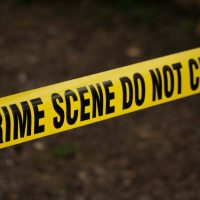 After an early morning car chase over the weekend, police have arrested a Marion man.
At approximately 2:24 a.m. August 8th, a Marion Police officer observed a Gold 2004 Ford Crown Victoria in the area of 30th and Washington streets.
According to a Marion Police Department press release, the driver tried to turn away from the officer, covering his face. The driver then disregarded a stop sign.
The press release states that when the officer attempted to stop the vehicle, the driver, identified as 29-year-old Kyle James Olson, fled.
Olson turned onto 33rd Street at a high rate of speed. At one point, Olson drove an estimated 75 mph.
According to the press release, the driver disregarded a light at 10th and Adams streets. He continued speeding until he lost control of his car at Fourth and Adams streets, crashing into the Star Financial Bank.
Olson tried to run away, but he was apprehended by police.
Olson is facing charges of operator never licensed, reckless driving, failure to stop, accident with property damage, and resisting law enforcement.