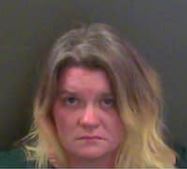 Amanda Carmack's jury trial began yesterday, with both the state and the defendant conducting extensive interviews with prospective jurors, trying to find any potential biases that could compromise a fair trial.
Grant County Circuit Court Judge Mark Spitzer said the case is expected to wrap up some time late next week.
Carmack is facing charges of murder, neglect of a dependent resulting in death, domestic battery resulting in death and strangulation.
The charges stem from the death of Carmack's stepdaughter, 10-year-old Skylea Carmack.
Police state Skylea was strangled to death on Aug. 31, 2019, but Carmack reported Skylea as missing that night.
After a four-day search, law enforcement agencies found the girl's body in a trash bag in the shed located behind the Carmack home.
A livestream of the trial can be found on the state's public courts website.