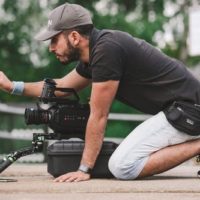 Students and faculty in Taylor University's Film and Media Production program are celebrating the 500th external recognition for film or video work since the program began in 2006.
"When we heard the wonderful news that our students won five Telly Awards this week, we knew that would put us over the 500 mark," said Kathy Bruner, co-chair of the Art, Film & Media Department at Taylor. "We are honored and happy to have reached this milestone in external recognition."
The industry-recognized "Tellys" are for non-broadcast video productions. Taylor won two Gold Tellys and three Silver Tellys for fiction, documentary, and client video productions. Professor John Bruner's students had two winning entries in the student category for fiction film: My Brother's Keeper and Nora. Professor Steve Bailey's students were recognized for their work on a first responder recruitment video for the city of Marion, Indiana and Kathy Bruner's students were awarded for their work on the short documentaries 20 Over and MTXE: Mental Toughness Xtra Effort.
Taylor's program teaches film, television and video production, and enters its strongest student work in competitions and festivals throughout the year. Prior to this newest milestone, Taylor student work was recognized with seventeen nominations for Student Production Awards from the regional Emmy organization, the Lower Great Lakes chapter of the National Association of Television Arts and Sciences.
During the 2020-2021 school year, multiple film festivals selected Taylor student work for screening including the Indy Film Festival (Indianapolis), the Wildlife Conservation Film Festival (NYC), the Chagrin Documentary Film Festival (Ohio), the Southeastern Film & Music Festival (TN) and the PopCon International Film Festival (Indianapolis).
"Taylor University is proud of Film and Media faculty, students, and staff whose hard work and commitment to excellence have been recognized by film and media leaders across the nation," said Dr. Tom Jones, Taylor University's Dean of Arts and Humanities. "They are demonstrating on a daily basis that it is possible to fulfill the mission of bringing Christ's truth and redemptive love to a world in need in spite of pressures to compromise. Our Film and Media faculty, staff and students are truly salt and light at a time when both are desperately needed."