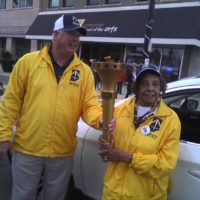 Marion has lost a legend.
Pearl Bassett died Monday at the age of 110.
According to her daughter, Paula Johnson, a number of health conditions contributed to Pearl's death. Paula said Pearl had spent the last few months with family in North Carolina, though she was working to regain her strength to come back to Marion.
Despite spending the last few weeks of her life in North Carolina, Paula said they are planning to hold a funeral and memorial in Marion.
A lifelong resident of Marion, Pearl was born on April 28th, 1911. She dedicated her life to her family, her church and her community.
"Mama's life was the community," Paula said. "She belongs not just to the family, she belongs to Marion."
Pearl was an avid social and civil rights activist and was the recipient of both the NAACP's Unsung Hero Award and the Francis Hook Award, as well as the Centurion Award, presented by Governor Mike Pence in 2003.
According to Paula, Pearl was the first Demo­c­ra­t­ic Precinct Chair­woman in Grant Coun­ty.
But Pearl's proudest moment, according to Paula, was serving as a torchbearer during the Indiana Bicentennial Torch Relay in 2016.
Paula said her mother loved to look good and have fun, recalling how she would bring clothes, makeup and magazines to Pearl while in the hospital.
She attributes her mother's long life to living vivaciously and including a glass of wine with dinner.